Verónica Echenique Almeida, a traveller from The Basque Country, first arrived in Chania in the year 2000. As most visitors, she immediately fell for its streets, history, people and atmosphere. Three months later she had decided to make it her home.
Being in contact with local artists and travelling to Asia soon turned her into a jewellery maker. A strong taste for natural materials, colours and shapes led her to combine precious and semi-precious stones with sterling silver in all kinds of necklaces, earrings, bracelets etc…
Eleni Koukoulaki is a Cretan artist raised in Belgium witha natural taste for colours and simplicity. They became a team the minute they started to work together and their partnership is now part of their joy for life.    
Our travels to different places to select the best gems for our designs are a highlight of our teamwork.
In 2018, a new member joined the team, an American ceramist based in Chania over the last 20 years: Lotte Neumann brought a fresh air into the Almeida creations and added the art of pottery to our shop: http://www.epalladioartworkshop.com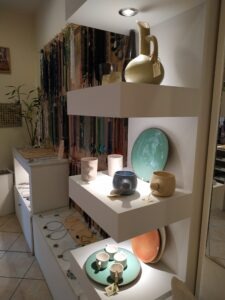 Her unique designs based on Cretan traditionnal pottery are fresh and contemporary.
Located in one of the most charming and quiet streets of the Old Venetian Harbour of Chania, since 2006, their workshop and shop in Theotokopoulou Str., 50 offers their creations as well as a wide range of precious stones and silver beads to handcraft your own jewel.
We are all three of us happy to practise our language skills (English, French, Spanish, German and…Greek, of course), to chat with travellers from everywhere over a glass of tsikoudia/raki or home-made lemonade with good music and to help you find something exquisite among our creations or design your own piece of jewellery. We're also glad to provide with touristic info such as restaurants, bars, excursions and other means of entertainment.